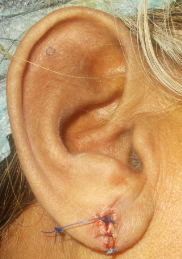 Before Otoplasty Surgery                                         After Otoplasty Surgery
Cosmetic surgery is a unique discipline of medicine dedicated to boosting appearance through surgical and medical techniques. Plastic surgery can be performed on all areas of the head, associated with the guitar and body. Because cured areas function properly but lack aesthetic appeal, plastic surgery is elective. Clear plastic surgery is defined as a surgical specialty dedicated to reconstruction of face and body defects because of to birth disorders, injury, burns, and disease.

Enhance your beauty, tone your body, uplift your appearance and reclaim your radiance with our treatment. Carry the charisma and the charm at your best from Dr Y V Rao Clinic cosmetic procedures. Our team offers a comprehensive range of aesthetic solutions for skin, hair, and body under a single roof. 

People are changing and enhancing lives with cosmetic techniques. We are a team of experienced and well-trained professionals provide complete cosmetic care. Our scientific approaches, customized procedures, and well-researched treatment modalities suit perfectly with all the Indian skin types. 
The patient was a teenager from Mumbai, looking for the best doctors to carry out cosmetic surgery. She was afraid of pain, which may disturb her during the treatment. We told her the procedure, assuring that there will be no pain during the surgery.
The Rhinoplasty started to give a better shape to her nose, which has snatched her peace of mind. During surgery, our qualified surgeons provided her with the best treatment, changing the shape of her nose completely. Her excitement and confident was worth seeing when she told us that she found us the best clinic, not only for the treatment but also for the care our staff took of her.